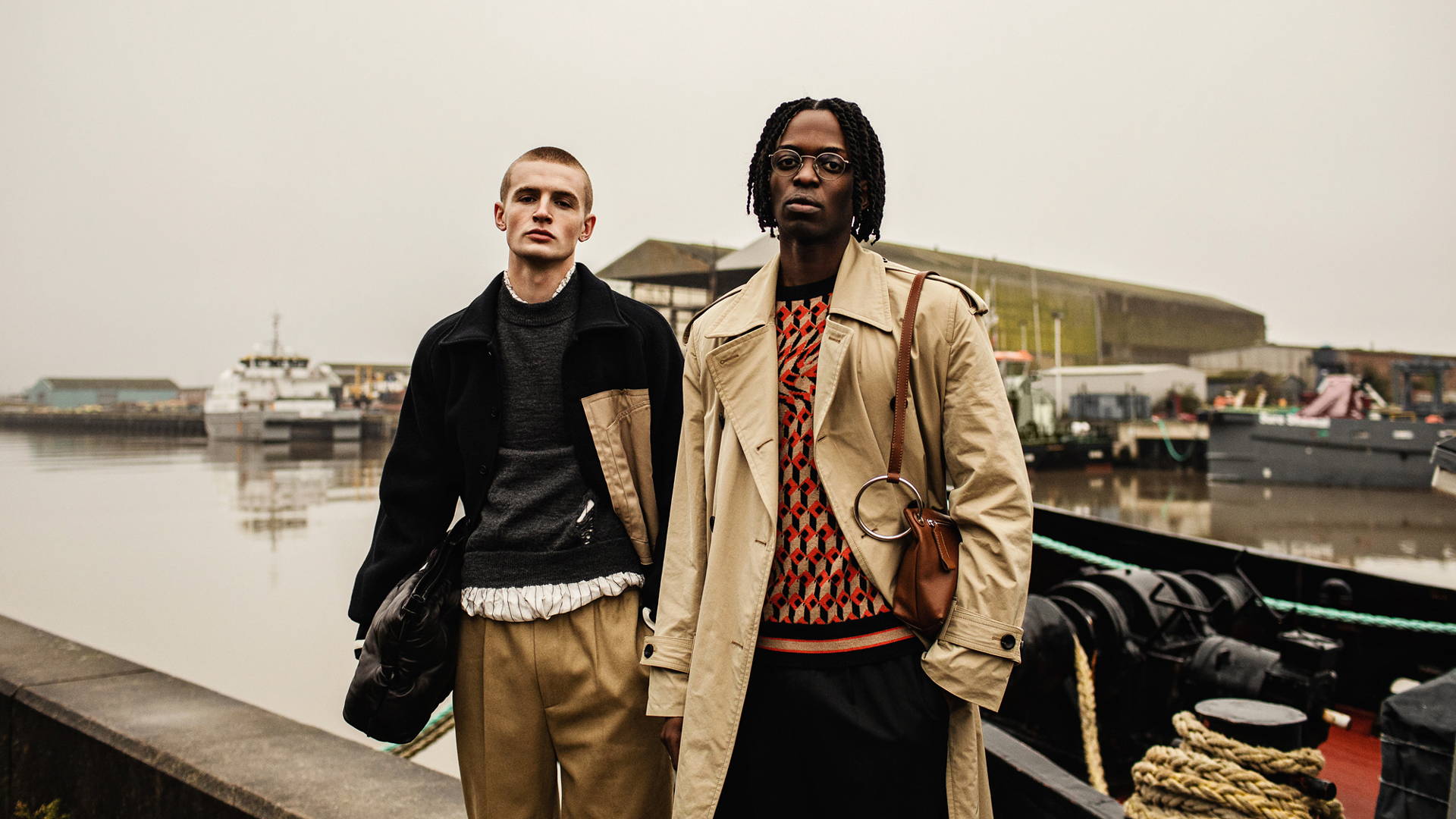 Our winter lookbook was shot on a beautifully gloomy day in Great Yarmouth by our photographer Kev Foster. Situated east of Norwich, Yarmouth is a seaside town that was a booming holiday destination in its hey-day. With the quay as the backdrop, we have showcased our highlights of this season's illustrious selection of outerwear.
Lewis wears the Stone Island Shadow project Bi-Strech Twill jacket, with the Shadow Project Turtleneck underneath, both feeling as good as they look. Accompanied by the Porter Tanker travel case and Dries Van Noten Parr Pants.
Moncler exemplifies their outerwear proficiency in the Reynaud jacket: A down filled, diamond patterned jacket that is elegantly efficient in warmth.
Mikayah also wears an oversized beanie and the Legere cross body bag, both from Moncler.

An in house favourite of ours at Philip Browne: The CP Company DD Shell in desert sun, its super lightweight without any compromise on warmth.
The outer shell is made with a water resistant, micro ripstop material for protection and durability.
Belgian designer Dries Van Noten is another welcomed addition to our brand list for AW21. He launched his eponymous clothing label in 1986. His collections are noted for fluid, dynamic tailoring, contrasting prints and intense colour palettes. He is celebrated for creating unique yet wearable collections.
Mikayah wears the Renson M.W Trench Coat, which is a sophisticated, elegant rendition of the timeless garment. Underneath is the patterned Tim sweater, it's a stunning piece of knitwear which bends the eyes with its melting geometric design.
Lewis wears the Wool Bomber and Leather Cushioned shoulder bag, both by Maison Margiela. We curated the Dries Van Noten and Maison Margiela looks with their synonymous colour palettes in mind, along with their corresponding parallels in design and ethos.
John Elliott is a welcomed addition to our brand list for this season. The eponymous label have been creating elegant, simplistic renditions of everyday staples since 2012. With attention to detail, quality of construction and custom fabrics at the heart of the brand's ethos, it's easy to see why so many revere the brand.
Lewis wears the Bogota Bomber jacket which is made with a Japanese nylon taffeta. It has a Water-repellant finish, and features a quilted Primaloft®️ lining. Underneath is the beach pullover hoodie in maroon.
Canada Goose have crafted their Crofton Puffer with a recycled feather-light-ripstop fabric, which takes warmth to a level needed at this time of year. Its an ideal winter companion, packable and easy to stash away on-the-go.
Lewis also wears the Morpeth knit and Jack Ripstop Cargo's, both from Barbour, accompanied by the CP Company Crossbody Lens bag.

Mikayah wears the Drole De Monsieur La Manteau Zigzag fleece jacket, Barbour Frank cord trousers and the the Y-3 running cap.
Leave a comment