The Humble Cardigan. AW21
The humble cardigan is firmly back in the wardrobes of the modern fashionista. Many brands are offering their versions this season, and we have handpicked some of the standouts in our AW21 collections, with an array of styling points and cross decade inspirations, many have adopted bold colours, geometric 70's inspired patterns and oversized fits. For the location of the shoot, we were graced with the showroom of the illustrious Norwich based Jane Richards Interiors: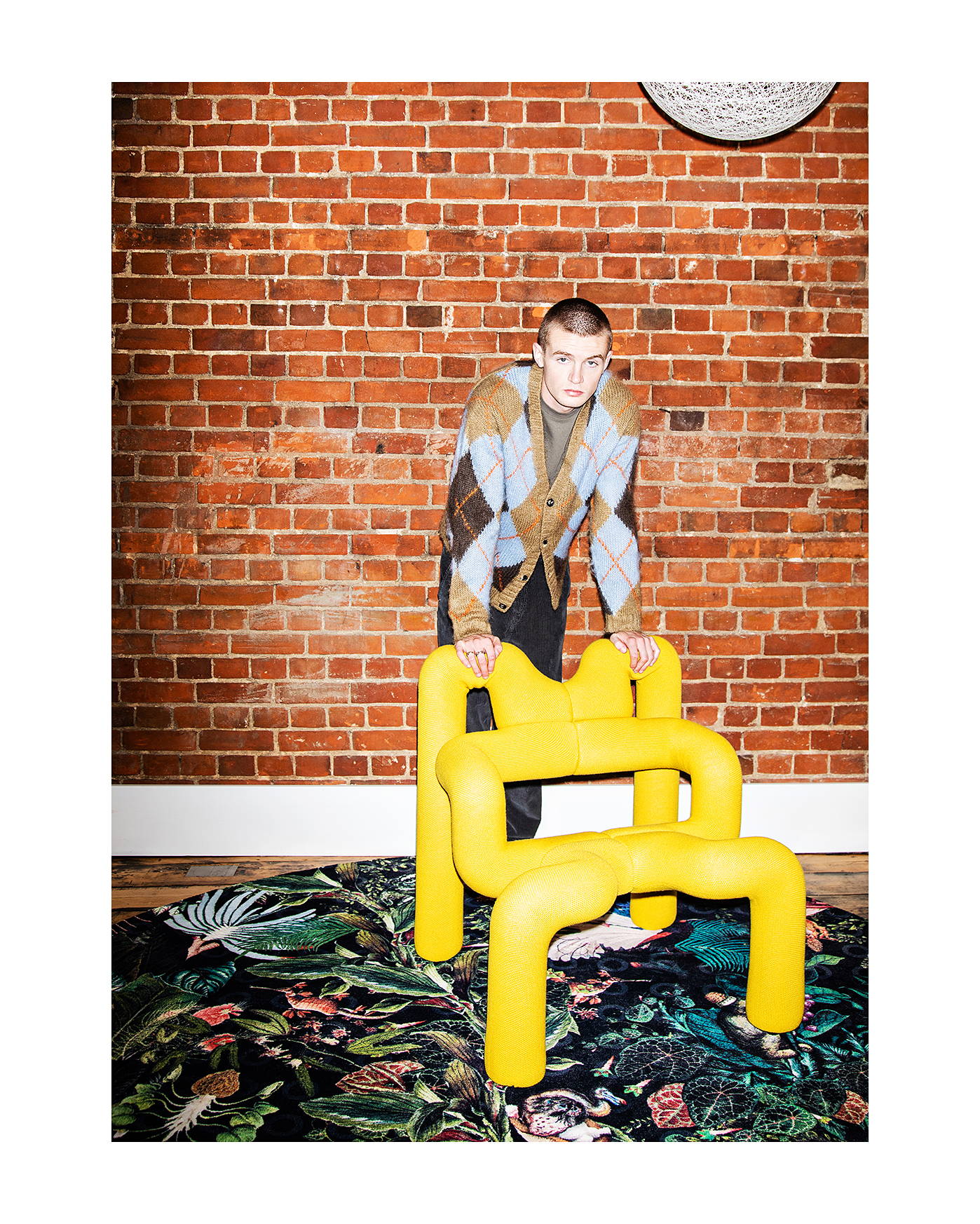 Cardigan: Kenzo
T-Shirt: Kenzo
Trousers: Kenzo
'Ekstrem' Chair by Varier
'Menagerie of Extinct Animals' Rug by Moooi
Founded in 1988, Jane Richards is an internationally renowned interior design studio and design store based in Norwich. Located within the heart of the award-winning Norwich Lanes, the bricks and mortar store is known for its curated selection of traditional and contemporary design brands, mid-century furniture and bold home accessories. They stock some of the world's leading contemporary designers such as; William Morris, Gufram, Moooi, Seletti, Romo, Designers Guild, Fritz Hansen, Christian Lacroix, Studio Job, Matthew Williamson, Osbourne & Little, Slamp, Magis and BD Barcelona.
The design of a cardigan has not changed much in its 160 year history, however the popularity of the garment has swung throughout the decades with defining moments that have propelled the garment into mosts wardrobe. Today we see it styled in varying ways, from an array of designers curating their own version. The recent resurgence is not its first since its creation in the late 19th century, worn as a military garment, it was named after the 7th Earl of Cardigan. Originally it was a sleeveless waistcoat that was later adapted into something that is more akin with today's aesthetic.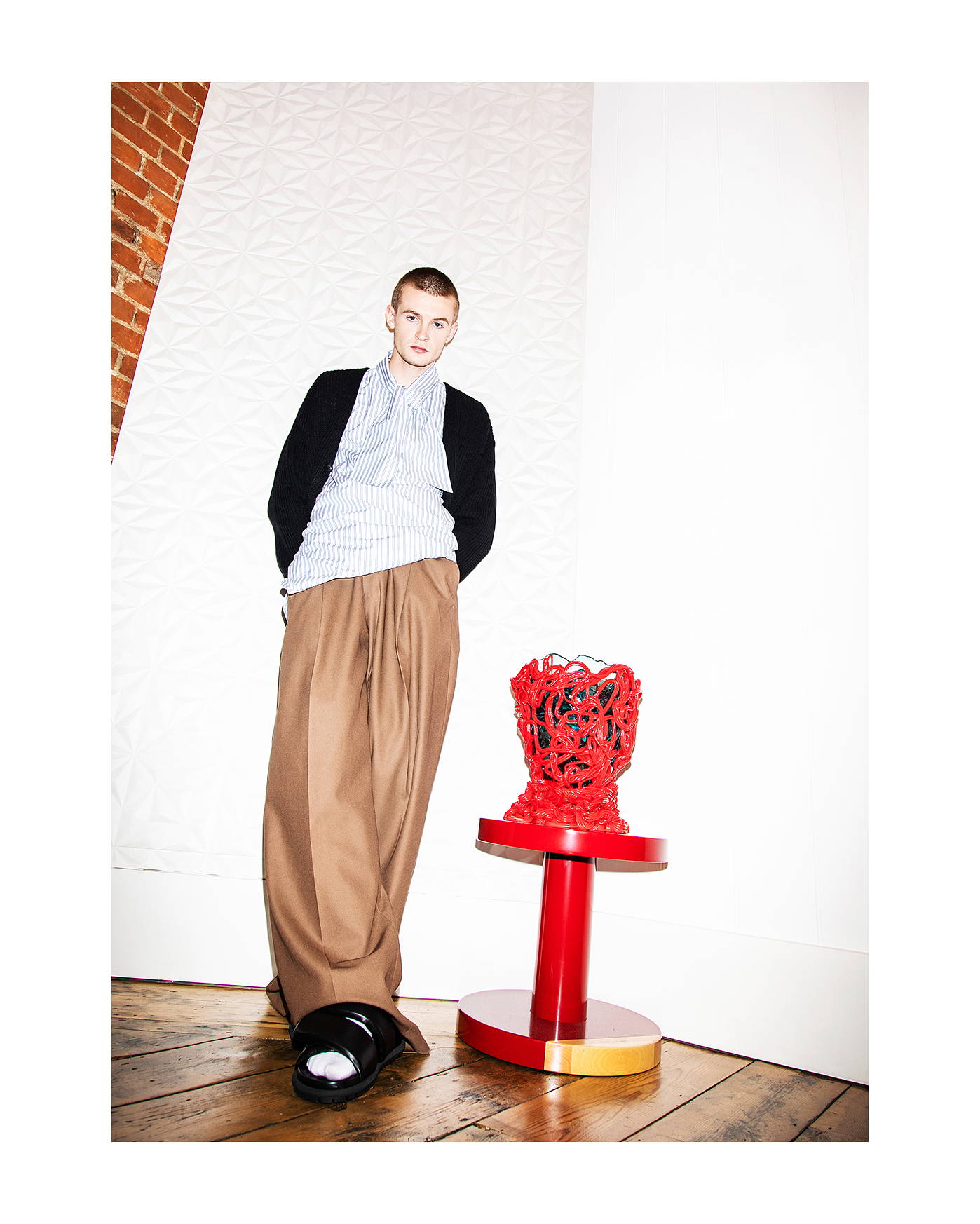 Cardigan: Dries Van Noten
Shirt: Dries Van Noten
Trousers: Dries Van Noten
Footwear: Dries Van Noten
Side Table by Moooi
Spaghetti Special Vase by Corsi Design
Coco Chanel is acknowledged for popularising the garment in the modern style, creating a functional alternative to an over head sweater that didn't mess the hair up.

It became a popular garment for both genders by the 40's and In 1968 Steve mcQueen popularized the garment even further for men by wearing a cardigan in the film Bullitt and in his much celebrated personal style.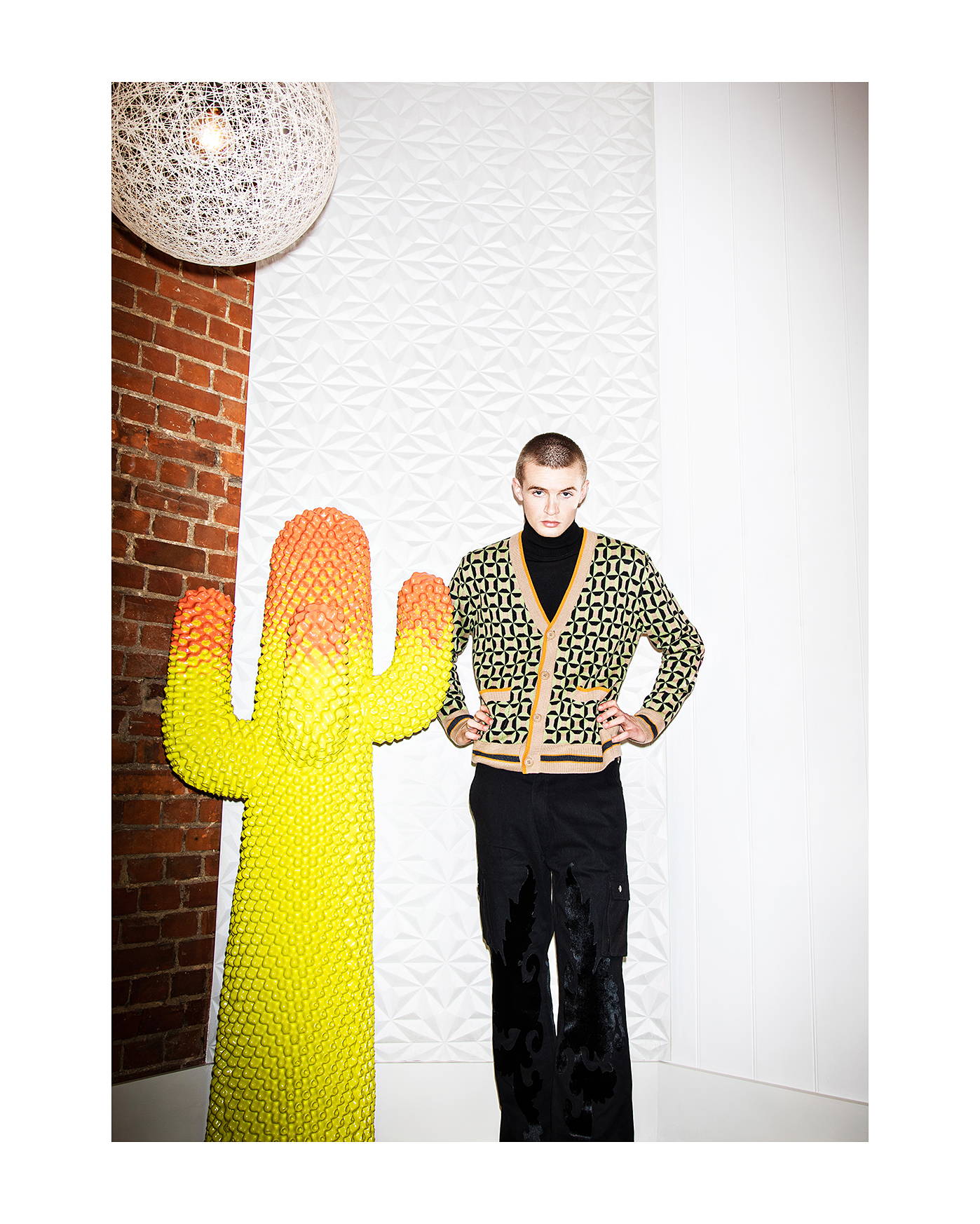 Cardigan: Dries Van Noten
Role Neck Jumper: Vivienne Westwood
Trousers: Youths in Balaclava
'Meta Cactus' Coat Stand by Gufram
The 70's and 80's brought the acrylic cardigan which saw geometric patterns and questionable colourways as a counterpart to the modern times of that era.
Kurt Cobain famously wore a mohair cardigan in Nirvana's MTV unplugged performance, these were some of the last images of Cobain before he died 5 months later, the cardigan he wore sold at auction for $344,000 recently.The use of Mohair has resurfaced in recent times, perhaps as its durability, resilience and dyeing abilities have allowed designers to experiment further with the material.
Fast forward a few years and 'The Dude' was seen wearing a Pendleton cardigan in The Big Lebowski. Perhaps more so than any, The Dude epitomises the juxtaposition of garment placement within popular culture, the cardigan became his defining uniform, and a cult antihero was born.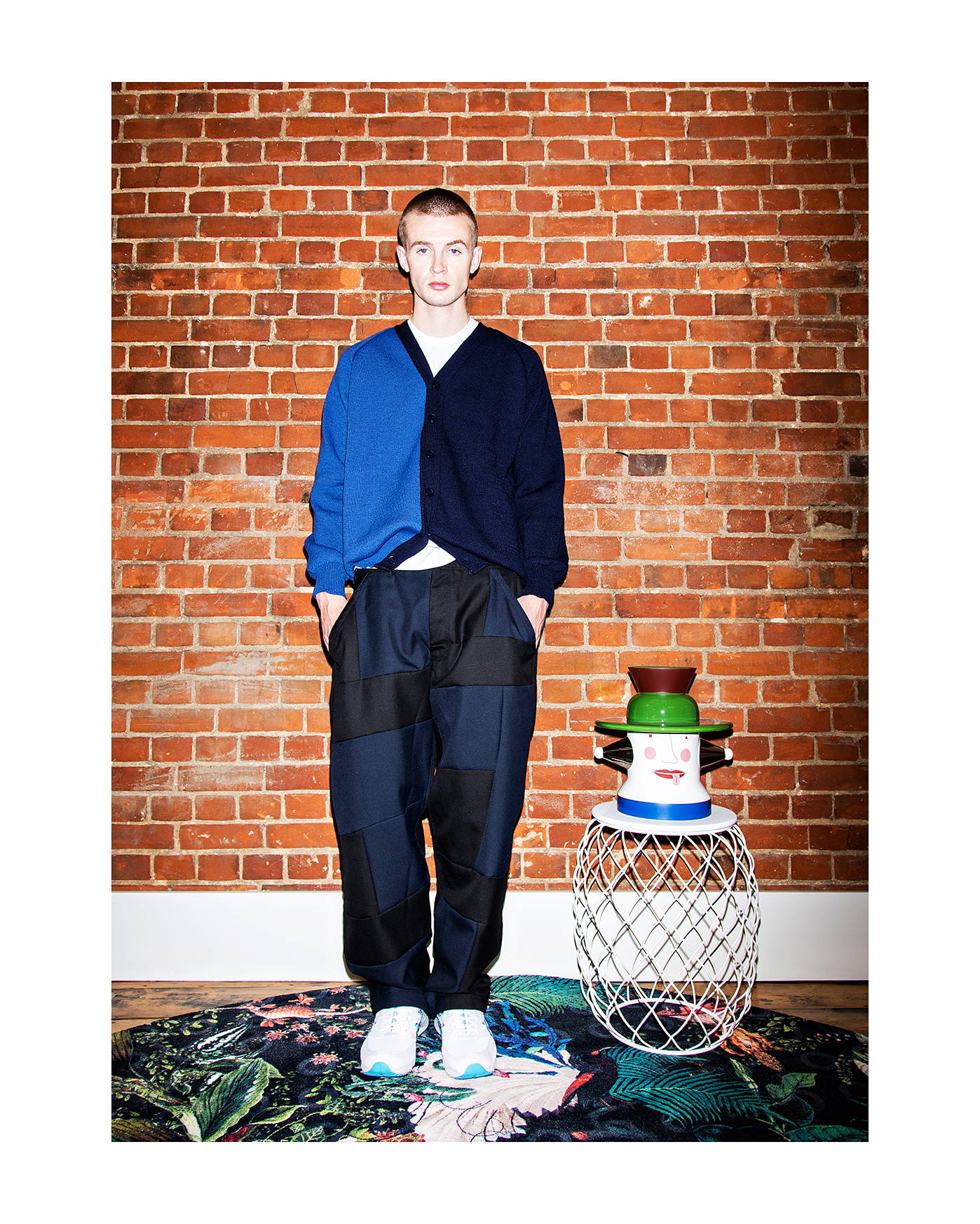 Cardigan: Comme des Garçons SHIRT
T-Shirt: Comme des Garçons SHIRT
Trousers: Comme des Garçons SHIRT
Footwear: Comme des Garçons SHIRT
'Menagerie of Extinct Animals' Rug by Moooi
'Geopablo' Vase by Jaime Hayon for Bosa
The mid 2000's saw the cardigans' resurgence with youth culture for us Brits on the back of Pete Doherty, Simon Amstel and The Kooks, with Topman being the destination most likely to provide for the scrawny teenage wannabe's.
With the all encompassing fashion discourse that we have today, it's easy to see why cardigans have been a popular layering garment for the colder months in recent times, designers are always regurgitating the past and reshaping it with the help of stylists, influencers and cultural references.
Leave a comment